Siteground Hosting Reviews
Siteground Hosting Reviews Rating:
Shared hosting starting at $3.95/mo.
WordPress hosting starting at $3.95/mo.
Reseller server starting at $42/year.
Cloud hosting starting at $80/mo.
SiteGround sits in the middle ground between a consumer web hosting provider and those who cater to enterprise business solutions. If you've got a small business with more complex web needs than a typical small business, SiteGround is an ideal solution.
Although offerings start as low as $3.95 per month, we particularly like the company's GoGeek plan, which is chock full of useful features, including access to a staging server and one-click Git repo creation.
There's a lot to like about SiteGround, but the company did lose some points due to its policy of more than doubling your hosting costs after the first year. That nice $3.95/mo price shoots up to $11.95 per month. The company calls it a first-year discount, but that's in very tiny, light gray print.
On the plus side, SiteGround offers free automatic daily backups, access to the Cloudflare CDN, high-performance SSDs for all plans, unlimited email accounts, and integration of the free LetsEncrypt SSL certificate into sites. The company does limit bandwidth and storage, but even those who claim to offer so-called unlimited bandwidth and storage really have some limits in their terms of service.
SiteGround is very proactive about protecting their customers' security. They have a dedicated security team that writes necessary patches and web firewall rules that help mitigate zero-day vulnerabilities. They also use an AI-based system to monitor and apply fixes to all their servers dynamically.
Finally, the company offers an entire tier of custom enterprise business services. So, if you start out with a small business and do GrowBig (as their mid-tier plan is named), you'll be able to stay with the company no matter how big you get.
SiteGround Background
Founded in 2004 in Sofia, Bulgaria,
SiteGround has grown to be one of the world's best web hosting companies.
Currently, they host more than One and a half million domains.
When choosing a web hosting service, there are many things that you should consider. From price to features to customer base to server location, storage and so much more.
SiteGround web hosting meets all these expectations and delivers well.
It has different types of web hosting at pocket friends prices, an excellent customer service, numerous performance enhancing tools and so much more.
SiteGround is a quality web hosting service provider that is ideal both for small and medium businesses and individuals.
It has fantastic uptime, robust security, and top notch customer service.
They offer a broad spectrum of web hosting services which range from shared Linux web hosting (ideal for small businesses) to dedicated cloud server solutions (ideal for large companies and websites).
SiteGround Hosting Review
SiteGround have very strong Hosting Features which make their web hosting the best.
They have unlimited email accounts and databases.
On a daily basis, they take backups of your files automatically.
This is a crucial net safety routine which ensures in case your backup fails; they have your back.
Besides that, they use the standard industry Cpanel for server management.
Also, they have a more unadorned user account for the backend.
If your website is a beginner, they offer you a free transfer, a free site builder and give you a free domain name for a whole year.
You cannot get any of these features in any of the competing web hosting companies.
SiteGround has many more unique developer-oriented features.
Most of their features are compatible with CloudFlare's CDN.
They have different hosting plans, and for each plan, they have special features.
Free Site Builder

If you do not know how to build your own website or you do not have enough time, SiteGround offers a free site builder.
However, you can only decide to use the site builder before you open an account.
This is because if you select site builder on your account, it will delete all the content created outside the site builder. This is a wonderful feature for site building with the SiteGround.
Hosting Plans
SiteGround has shared hosting plans. They have 3 major shared hosting plans, and these are: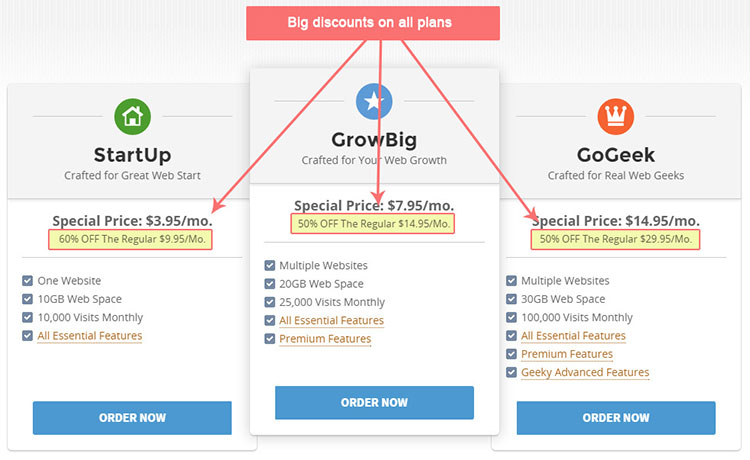 StartUp – this hosting plan is designed for hosting only one website. It has 10 GB disk space. This space is suitable for hosting a site can get not more than 10,000 visitors in a month. Some of the features that come with Startup hosting plan include free setup, daily backups, one-click WordPress installation, web transfer, 4 server locations, full customer support and so much more.
GrowBig – this is a hosting plan that is meant for hosting many websites. This plan comes with 20 GB of memory space. For each of the website hosted under this plan, it can have up to 25,000 visitors per month. Under this plan, you will enjoy all the features that come with the Startup plan and more premium features like 1-year free wildcard SSL, super catcher, and others.
GoGeek – this plan is suitable for small e-commerce websites. A small e-commerce website is one that gets up to 100,000 visitors per month. GoGeek is designed to handle such kind of visitors. Some of the main features that you will get from their GoGeek plan is one click Git repo creation, Joomla and WordPress staging to mention just but a few.
Speed
Speed is very crucial in web hosting such that when a client types the address of your website, the information is sent to the host server for the file.
There are various factors which determine a website's speed.
However, your hosting server has the primary role of sending the requested information to the client as soon as possible.
SiteGround has an excellent reputation because they have a good web speed.
According to reports, most internet users give a website 3 seconds to load a given page before they can consider moving on.
3 seconds is not much time, which means if you want your visitors to visit your page, you need a faster loading time.
SiteGround has 4 major data centers in different parts of the world to ensure that the distance is reduced hence increased speed.
These are Chicago, London, Amsterdam, and Singapore.
Uptime
In web hosting, uptime is crucial.
The uptime percentage tells you on average how often you can expect your website to be unavailable.
It is impossible for any web hosting company to claim 100% uptime.
SiteGround boasts of 99.99% uptime.
By any standards, that is a very impressive uptime.
Customer Support
Just like in any other business, customer support is very crucial. SiteGround is well renowned for excellent customer support.

One of the outstanding traits of their customer support is their transparency and quick responsiveness through their different channels of communication such as live chats, post tickets, email and phone calls.
These customer services are available 24/7.
PROS
  Incredible Hosting Performance
 99.99% actual uptime
 24/7 genuine support
 Free domain name and SSL certificate
 SuperCacher for great speed
 4 data center locations
 SiteGround's unique server monitoring
Cons
Basic Plans allows only one domain hosting
Bigger plans are costly
Hosting Plan Limitations
Conclusion
If you are looking for a reliable and fast global web hosting company that has excellent features and customer service, SiteGround is a perfect choice.
Their hosting plans are pocket-friendly and each hosting plan has salient features. If you are starting a website for the first time, Siteground will offer you the best space to grow your website.
Sign Up Here!
If you found this review helpful PLEASE leave me a comment below and I will reply asap, thank you.