A2 Web Hosting Reviews Rating:

A2 Web Hosting does a lot of things right. They offer Linux and Windows-based servers, SSD, caching, CDN, and SSL for all plans. While some plans offer up time monitoring and regular backups, all plans offer malware scanning and automatic patching and updates.
The hosting provider offers a managed hosting service called HostGuard. Subscribers of this service have access to a 24/7/365 "Guru Crew" support team that manages network, hardware, software, and security. Managed hosting for WordPress customers begins at $9.78/mo, and for VPS customers at $25/mo.
The web hosting provider offers solid plans with a good selection of features. The one area we're concerned about is how they present their offers. Like many hosting providers, their published pricing is a bit misleading. You're not getting hosting for $2.96/mo unless you pay $71 for two years of service. Renewals are generally at a higher rate, although a salesperson we spoke to advised you ask for a "loyalty discount."
It shouldn't come as any surprise that, like other hosting providers, A2 Hosting's unlimited plans aren't actually unlimited. They expect you to use their service like "similarly situated customers." This is like being on a highway. If everyone is going a few miles above the speed limit, you're probably okay, but if you're barreling down the fast lane past everyone else, you're probably going to be asked to slow down.
The company offers a solid 30-day money back guarantee they call an "Anytime" money back guarantee. Yeah…kind of. You can ask for your money back at any time, but after your first 30 days, how much you get back will depend on a painfully complex pro-rating system.
But, again, operationally they're quite strong. 24/7/365 customer support is available not only by live chat and email, but by phone. They offer free site migrations with some dedicated attention paid to making a transfer as smooth as possible. And, if you're willing to go for one of the higher-end plans, the company has put some serious attention into performance and caching.
A2 Hosting Review
A2 Hosting has been around since 2001. It might keep a low profile compared to some other big-name hosts, but it has also delivered some of the fastest server speeds we've seen over the past 16 months.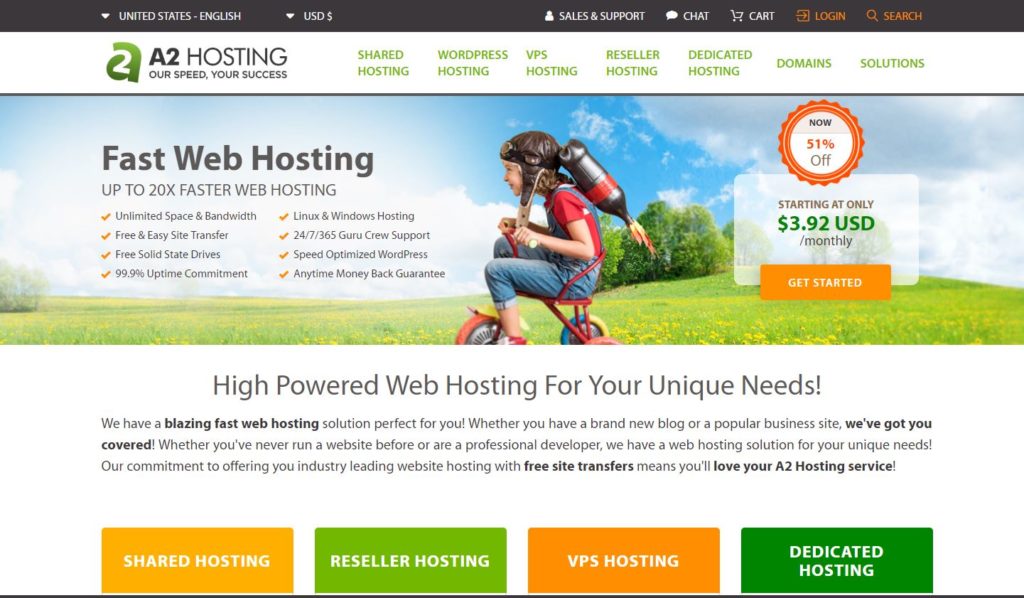 Their customer support is efficient, the hosting plans are developer-friendly, and they have a unique "anytime" money-back guarantee to get a refund on any unused portion of your plan. Most plans include SSL and backups, too.
Uptime has slipped over the past few months, however. And the renewal rates jump pretty aggressively after your first purchase period ends.
Here's an in-depth look at A2 Hosting's after signing up, paying, and putting it to the test.
1. Fastest Shared Hosting Provider We've Tested (336ms)
You'll see a recurring theme when you go to A2Hosting.com:
Speed.
They talk about speed on the homepage. All of the features are designed to make your site "screaming fast." And even the name of each pricing plan is related to speed (like "Swift" and "Turbo").
It should come as no surprise that A2 Hosting is, in fact, fast. They're the fastest shared hosting provider we've tested, and they've been the fastest for several years now.
That's no small feat in a world where page loading times could be the difference between keeping a website visitor around or losing them to the competition.
2. Friendly & Efficient Customer Support
A2 Hosting provides hundreds of articles in their knowledge base if you'd prefer to find a quick answer to your sticking point.
If you prefer speaking to a human, they offer everything from chat, to phone, and ticket-based help.
We fired up the live chat. Ironically, A2 Hosting's customer support was a little slow connecting to the live chat session, taking around five minutes.
But from there, everything was smooth sailing.
3. Free 'HackScan' Keeps Your Site Safe
Online, speed and security don't always go well together. That's because extra scanning, firewalls, or layers of encryption can often slow users down.
A2 Hosting has managed to be lightening fast while not dropping the ball on security, either.
Their servers are protect by "HackScan," a 24/7-monitoring service that scans for malware and other attacks day-in, day-out.
The best way to keep your site safe is by preventing issues before they break out.
Their data centers are also scale-able, meaning you're protected if a denial of service attack (DDoS) breaks out. These attacks attempt to flood your servers with traffic and knock your site offline. So A2's got your back to handle sudden, unexpected surges.
4. Free Site Migrations (1 – 25 Depending on Plan)
A2 Hosting will personally move your existing website over to their servers at no extra charge on all plans.
All you need to do is reach out to their customer support department with your cPanel account credentials, any day or time, and they'll take that burden off your back.
The only catch is the number of sites, based on the plan you've purchased. Their terms spell everything out in detail.
Shared hosting customers on the Lite, Swift, and Turbo plans will get a single site moved for free. But if you're purchasing the reseller, dedicated, or managed VPS hosting, you'll get 25 free migrations.
Again, this assumes you can provide cPanel access to your existing sites. Otherwise, A2 might take a small fee for the extra work.
5. Content Management Systems (CMS), Website Builders, and Developer-Friendly Tools
A2 Hosting works seamlessly with all major content management systems. You can install a WordPress, OpenCart, Drupal, Joomla, or Magento site with just a few clicks. No need for a developer to help you out.
They have a few special features for these sites, like the A2 Optimized WordPress plugin that will come with Turbo plans to keep your site speedy.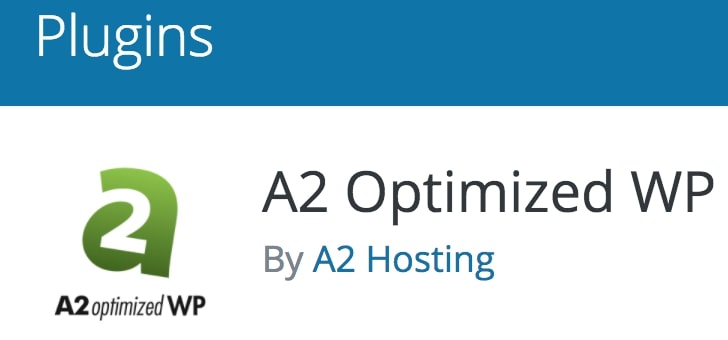 A2 Hosting also has their own website builder, appropriately named SiteBuilder. These are ideal if you're looking for something a little more user-friendly to customize your site by yourself without having to Google a single HTML tag. Just keep in mind that pricing and plans are a little different for A2's SiteBuilder (than the normal shared hosting plans).
A2 Hosting's plans come compatible with a Cloudflare CDN account to, repeat after me, keep your site fast (by loading images and other large files separate from your server).
If you're a webmaster or agency looking to host dozens of sites under one roof, A2 Hosting comes with developer-friendly tools. You can get admin-level access on servers, free server rewind backups to load old versions of a site, and multiple versions of everything from PHP to MySQL, PostgreSQL, Python, and ASP.NET.
6. Anytime Money-Back Guarantee
A2 Hosting used to have the standard 30-day money-back guarantee like most other hosts we've reviewed.
You know the drill with these. Run into any problems or issues within the first 30 days and you can get a complete refund. No questions asked.
However, A2 Hosting has modified this policy a little over the last few years. And customers are the ones who benefit.
A2Hosting now offers an "anytime" money-back guarantee.
You'll still get a full refund within the first 30 days. But what if you're prepaying for three years to get the best deal and you're unhappy after the first year?
You can still ask for a refund and receive a prorated amount back for the remaining time (so the last two years of your deal).
There are a few caveats, however.
The first is that any refund request past the first 120 days will be issued through PayPal. Like other hosts, 'additional' services like domain registrations, setup or migration fees, are nonrefundable.
You'll get to keep anything that's not refunded, though, like your domain name.
7. Green Web Hosting
A2 Hosting's hometown of Ann Arbor, Michigan is known as "Tree Town." They reportedly have 50,000 trees and 150 parks, according to their site.
So A2Hosting feels a moral obligation to help protect the planet from global warming.
They have partnered with Carbonfund.org to help support renewable energies and reforestation. They also have a "FutureServe" green hosting initiative in place to help offset emissions from their servers.
This shouldn't be the deciding factor to sign up for a web host. But knowing the company you're working with cares about the environment is a nice extra perk.
A2 Hosting Pricing & Hosting Plans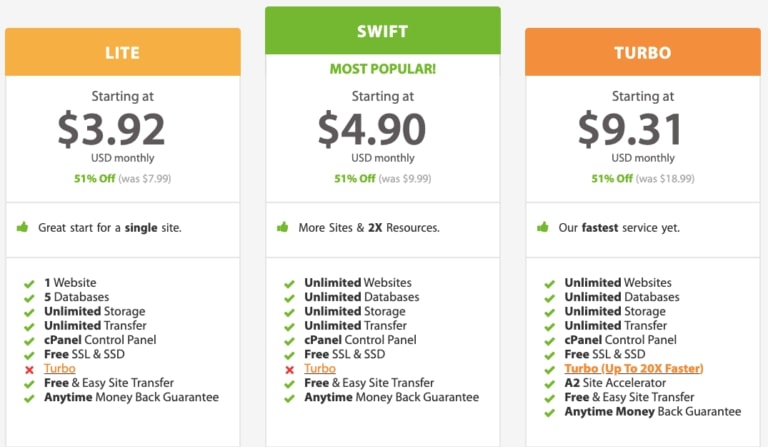 A2 Hosting has three pricing tiers for their shared hosting:
Lite plan: This plan starts at $3.92 per month. It comes with enough for one website, five databases, unlimited storage and bandwidth, a free SSL, plus cPanel control access
Swift plan: This plan starts at $4.90 per month. It supports unlimited websites, databases, storage, transfers, SSL certificate, cPanel, and a single site migration.
Turbo plan: This plan starts at $9.31 per month. It comes with everything from the Swift plan, plus Turbo (20X speeds) and the A2 Site Accelerator.
Remember, if you use "HOSTINGFACTS" coupon on the last checkout page, you'll be able to get it notably cheaper.
Pros
Ease of Signup: Three step sign up.
Payment Methods: Credit Card, PayPal, Check or Money Order, Bank Transfer, Skrill and PayULatam.
Upsells: Very few upsells.
Account Activation: Instant Activation.
Control Panel and Dashboard Experience: cPanel.
Installation of Apps and CMSs (WordPress, Joomla, etc.): Option to install WordPress and other popular CMSs are available at checkout.
A2 Hosting is one of the best under-the-radar hosting companies you should know more about.
Their speed is excellent, customer service is friendly, security features are plentiful, refund policy is liberal, and they're even environmentally conscious on top of it all.
Cons
However, fast speeds and friendly support can't make up for everything.
Domain name purchases are not refundable. Only one site migration is free on their shared hosting plans.
Hidden Fees and Clauses: Renewal rates are higher than the introductory period. You have to cancel 15 days before the Renewal Period, otherwise, you'll get automatically charged.
if you're paying for the most expensive shared plan to host unlimited websites ("Turbo"), they'll still only give you one free site migration.
Slipping up-time and high renewal rates that you might want to double check before signing up.
Conclusion
A2 Hosting has consistently delivered best-in-class speed for the last several years. Their customer support is friendly and helpful. All shared plans come with a free SSL certificate and one free migration.
And if you run into issues at any time while being a customer, you can ask for a refund on the prorated balance of unused time.
Sign Up Here
If you found this review helpful PLEASE leave me a comment below and I will reply asap, thank you.